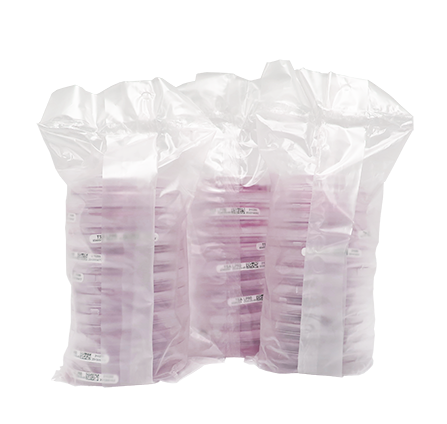 The unique properties of M&Q's specially designed nylon coextruded film make it well-suited for plated media packaging.  Created to facilitate sealing on form fill and seal machines, this polyamide based film allows media to be sterilized post pack out utilizing a variety of sterilization methods including steam, dry heat and gamma radiation.  Because nylon allows moisture to permeate through the film, condensation from the culture medium does not build up inside the bag.
M&Qs Plated Media Packaging offers:
-Transparent film for easy visibility
-High puncture and abrasion resistance
-Moisture permeability to eliminate condensation
-Suitable material for steam, dry heat or gamma radiation sterilization
-Improved sealability on form fill and seal machines
-Available in lay-flat tubing, pre-made bags and lay-flat sheeting
-Meets Class 100 Standards
Please contact M&Q today for additional information.