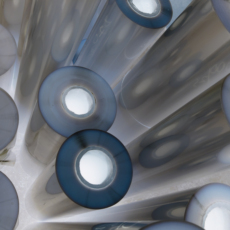 M&Q Packaging has developed a new co-polyester material which is available in tube stock and sheeting (for thermoforming applications). M&Q also can convert this roll stock into bags at the exact size required for your application.
This unique film is ovenable to 400 degrees Fahrenheit, abrasion and puncture resistant and exhibits very low protein adhesion (promotes browning).
Our polyester material processes very well and seals at significantly lower temperatures than traditional polyester film. The sealing window is also much wider than that other polyester and polyamide films. This material will cut rework rates into the low single digits.
M&Q co-polyester film is perfect for thermoforming applications.  At 5 to 6 mils thickness, this film forms beautifully to draw depths in excess of 5".
M&Q also produces heat shrinkable polyester film and bags in widths from 8" to 16" wide and in gauges from .80 mil to 1.20mils thick.
If you are interested in learning more about these unique products, please contact M&Q for additional information!