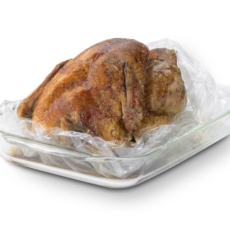 M&Q Packaging LLC is considered a trusted leader in the development and production of oven bag products for the meat processing industry.
Our dependable, cost-effective packaging solutions safely protect throughout the entire merchandise cycle from processing, through distribution, to the oven, all the way to the dining room table!
M&Q's high-temperature nylon and polyester cooking bags are perfect for ready-to-cook, retail and food service applications. Our high temperature roasting bags provide customers with safe, no touch freezer to oven preparation (no cross contamination); along with the convenience of almost effortless clean up. M&Q's nylon and polyester cook-in-bags can add value to a wide variety of meat species including poultry, beef, pork, lamb, and fish.