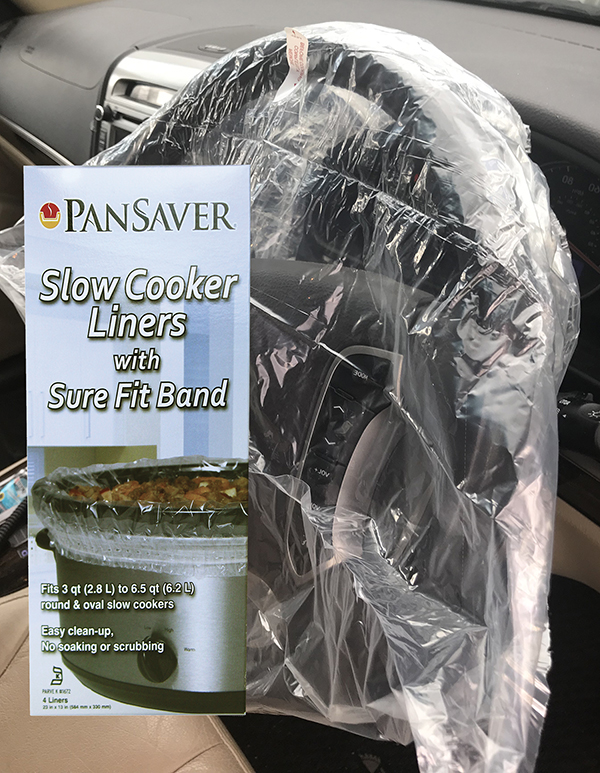 PanSaver SureFit Slow Cooker Liners Provide Innovative Steering Wheel Protection for Auto Repair
The R&D team at M&Q continues to find innovative ways to help keep people protected during this crisis. Recently, they discovered a new use for their PanSaver® brand Sure Fit Slow Cooker Liners: disposable steering wheel covers.
Pansaver Sure Fit Slow Cooker liners are 23" x 16" round nylon bags that feature an elasticized band around the top. The round shape makes it a perfect fit over most common steering wheel sizes, and the elastic band keeps the cover in place during use. Unlike other disposable steering wheel covers, these liners cover the entire steering wheel, rather than just the outside of the wheel. Best of all, when work is complete, the liner can be thrown away!
These Sure Fit Slow Cooker Liners are a great option for auto repair facilities looking to protect employees and customers while vehicles are under repair.  An auto repair center associate can place one over the steering wheel before working on a customer's car, so that they never have to touch the steering wheel.   In addition, if the facility disinfects the steering wheel, a Secure Fit cover can help reduce the likelihood of contamination until the time of customer pick up. The unique elastic band guarantees that the cover stays securely in place.
M&Q is fully stocked and ready to provide the covers in master cases of 48 liners. The covers are also available for bulk ordering in full pallet quantities. For more information on the PanSaver SureFit Slow Cooker liners, please contact M&Q at bolich@mqplastics.com.